Be a yearbook superhero!
With Treering's easy-to-use software and expert customer support you can design a yearbook your school will love.
Our Mission
We help yearbook editors focus on the fun stuff.
We build Treering to take away the hard work (and stress!) of making a yearbook. We're on your side!
No Contracts. No Commitment.
Unlike other yearbook companies, you're never locked into a contract. Schools stick with us year after year because they love us, not because they have to.
How to Choose a Yearbook Company?
Treering's flexibility helps schools handle the uncertain future ahead.
No minimum book orders, change number of pages, extend your deadline, sign books online, ship books to home.
See How Flexible This Year's Book Can Be
We make selling yearbooks simple.
Use your Treering editor dashboard to track sales and shipments, send emails to parents, and post marketing messages to your school's Facebook page.
We're getting stronger (and bigger!) with age!
Your Most Gorgeous Yearbook Ever
Choose from 100's of professionally designed themes or upload your own.
See All Yearbook Themes
Fast & Flexible Portraits
Automatically add portraits and customize your page layouts.
Request Free Trial
A year of memories in a book that will last a lifetime
High-end, well-crafted books printed on thick, 100 lb. recycled paper.
See Our Printed Yearbook Quality
Because Each Student Is Unique
Personalized yearbooks? Yep, we do that.
Every student gets 2 FREE custom pages printed in their yearbook only.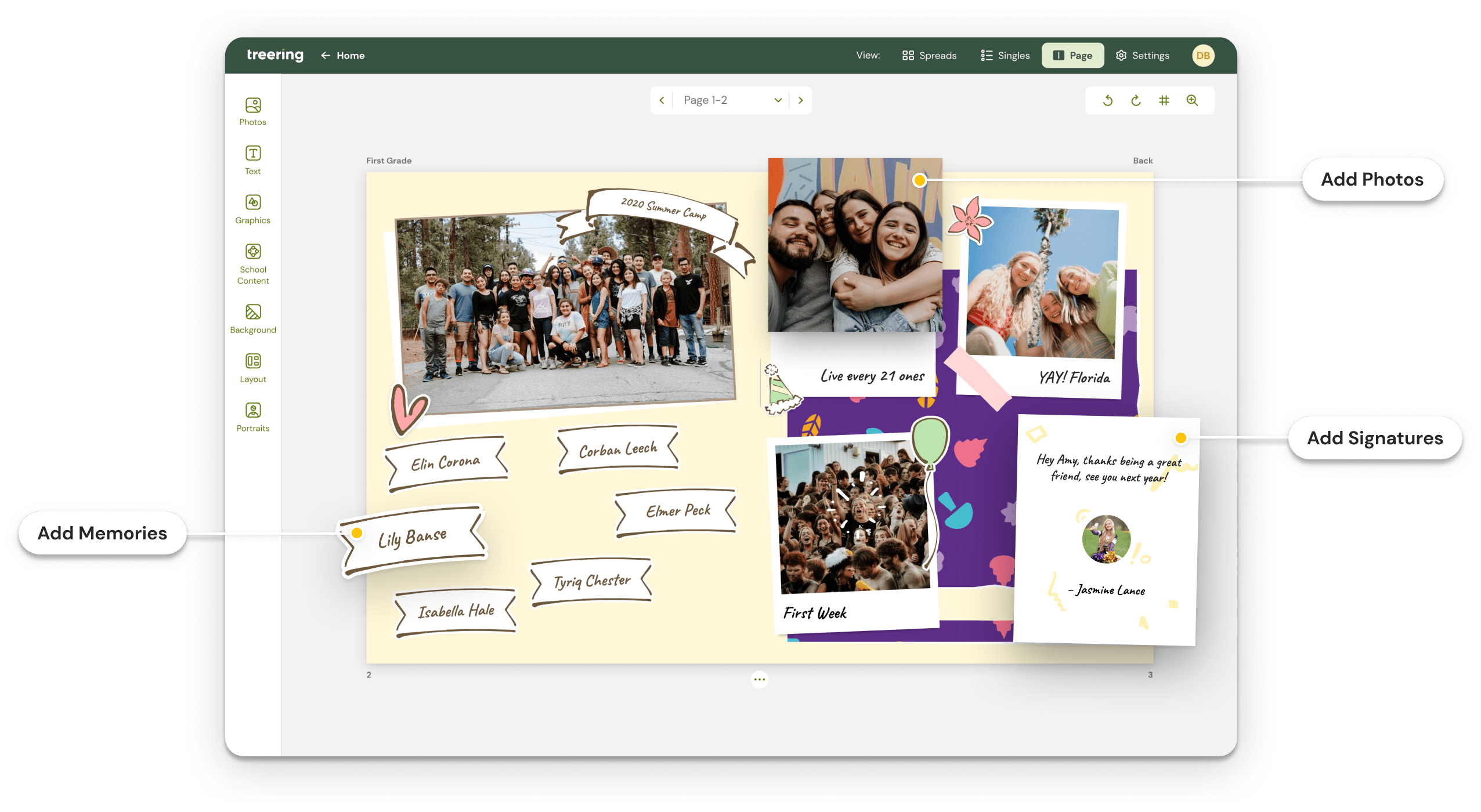 Add Photos from Anywhere
Add photos from your desktop or mobile device, link directly to any social media or online disks.
Capture Memories From The Year
Treering inspires students to tell the story of their year by choosing from memory prompts.
Digitally Sign Each Others Yearbooks
With Treering, students can e-sign their friends yearbook with photos and stickers.
Automatically Create Your Pages
Every student gets two free pages, printed only in their unique copy of the yearbook.
See How Custom Pages Work
The Delight Team
Delightful Support
There's a reason we call our support team the Delight Team. If you need help, our passionate experts are available to ensure you have a great yearbook experience.
"Great and prompt customer service. Easy to use program!"
Monique Oxer
Lake Placid Middle School
"I appreciate the patience of the customer service representatives each time I called with a question."
Melissa Charles
Hillcrest Homeschool
"IT'S PERFECT!!! My district is going to LOVE it! Thanks for all your support. I'll be showing it off like a first child!"
Jeni Moriarity
Helen Morgan Elementary
Seeing is believing
Yearbook Ideas & Inspiration
Looking for inspiration, design tricks, how to make a great cover, promoting your yearbook and engaging your community?
Request Free Idea Book
Seeing is believing! Give Treering a try!
Design and build a yearbook your school will love